Learn how rhodes is breaking new ground
Rhodes USA is a prefabricated buildings and materials company, focusing on providing clients with comprehensive building design, the supply of building components and delivering full-scale buildings through Rhodes' construction and development partners.
Rhodes USA is a prefabricated buildings and materials company, focusing on providing clients with comprehensive building design, the supply of building components and delivering full-scale buildings through Rhodes' construction and development partners. We have the technology and modern methods of construction focus, making the delivery of your construction projects more efficient and competitive.
Rhodes specializes in delivering challenging offshore and remote projects, with experience in turnkey remote area housing, buildings, mining accommodation, infrastructure projects, aid projects, and local developments.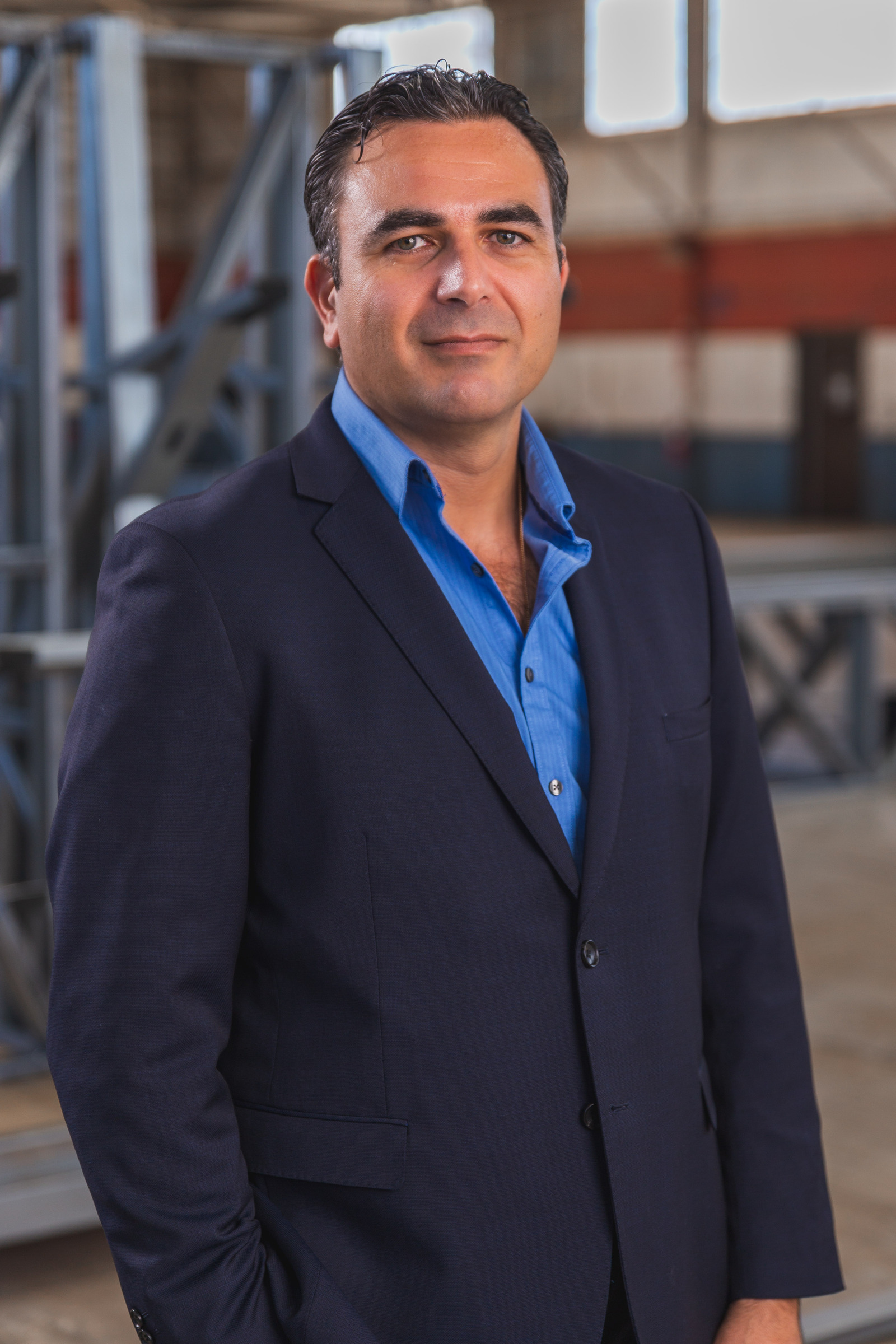 Emanuel Papas
Non-Executive Director | Group CEO
About Emanuel
Emanuel Papas has a lifetime experience in the construction industry has grown up on many building sites working for his family construction firm on custom single-family and multi-family projects. 
At the age of 24, he was employed as the Construction Manager's assistant on the Melbourne Crown Casino project – an $800 million contract incorporating over $1.7 million square feet of floor area including a 5-star 39-level hotel tower. 
Mr. Papas has early career corporate experience in banking, portfolio management, and finance, with his graduate degree in Applied Finance and Investments and a double Bachelor's degree in Planning and Design, and Building. 
Mr. Papas has been involved in modular and prefabricated company startups since 2005 and founded Rhodes Project Services in 2010. Rhodes specifically focuses on prefabricated component design, manufacturing and construction and has delivered many projects over the past 10 years. Notable clients and projects include: 
Rio Tinto Ltd

 

– One of the world's largest mining companies – 1,800 modular accommodation and facility units for mining camps in North West Australia in 2010-2014 in the capacity of lead designers and project managers for the design, manufacturing and supply of fully prefabricated modular units to site, including onsite installation support.
Australian Government, European Union, NGOs

 

– Foreign aid funded social infrastructure including housing, schools, health, justice and defense facilities (over 700 buildings) in the Pacific region from 2015 until present in the capacity as Head General Contractor and Supplier of prefabricated CFS structure and buildings.

 
Rhodes also focuses on property development including multi-family and masterplanned developments. Current projects under development include the CFS project design, manufacturing and supply for a 49 townhouse multi-family project in Melbourne, Australia, and as the owner/developer of a masterplanned community in Port Moresby, Papua New Guinea spanning 686 acres. 
Mr. Papas has been licensed Builder and Contractor since 2000 and is currently licensed in multiple countries in the Pacific region. He is a longstanding member of the Housing Industry Association, Master Builder's Association (Victoria, Australia), Australian Institute of Company Directors, and a Fellow of the Financial Services Institute of Australasia. 
Mr. Papas has led the growth of the Rhodes group of companies to be operational in 6 countries with over 600 employees currently working in construction, in-house manufacturing, design, infrastructure, and finance departments. 
Scott Turner
Managing Director | Sales Director
About Scott
Scott Turner (CEO) started working in the construction industry in Visalia California at the age of 16, where he learned at a young age every aspect of the field trades. There he specialized in new home construction and residential remodels. He soon realized his passion and began pursuing his career in Architectural and Construction Management at the mere age of 20.
Scott was soon nominated and invited into the American Institution of Building Design where he served on the board of directors for the California chapter then went on to develop his own design firm where his work has gained attention in 42 states, as well as other parts of the globe Russia, Finland, China, Canada, and Australia. After years of hard work and creating cutting edge designs Scott was awarded Top Designer for his architectural masterpieces. He has won dozens of design awards within the AIBD institute in the USA.
Scott gained local and stateside attention for his architecture and construction management skills, he was approached by government contracting company where he was hired on to be lead program manager/lead construction manager for ECP Contract (Enterprise Classrooms Program) Following his successful involvement and execution of the referenced contract/program above Turner discovered yet another passion, within the government contracting world. He advanced into Aviation Engineering Division supporting the United States Coast Guard in the design and management of the C130, C127, MH60 and MH65 overhauls. He developed new models to help the fleet complete their end goal of protecting the United States. His advanced architectural, building, and management skills have successfully completed new developments within the Lubbock, Midland/Odessa and the DFW areas.
Cindy Spray
Executive Assistant
About Cindy
Cindy Spray took a leap of faith in 2020 and moved from Visalia, California to Lubbock, Texas. As a Certified Property Manager for 14 years, she has a deep understanding of project management and resource allocation, which makes her a great fit for her role as the Executive Assistant for both Rhodes USA and Neo General Construction.
From human resource management to inventory supply, Cindy is committed to making sure all projects and staff members have what they need to succeed. She is passionate about the difference Rhodes USA and Neo General Construction make in the Lubbock building community and is excited to grow with both companies.
As a relatively new Lubbock resident, she enjoys meeting new people through client work and seeing both companies give back to the community she is now proud to call home.
Alexandra Marks
Administrative Manager
About Alexandra
Alexandra Marks, originally from Mansfield, Texas, moved to Lubbock in 2014 to study Restaurant, Hospitality, and Institutional Management at Texas Tech University.
Once Scott and Cindy shared their passion for the Lubbock community with Alex, she became interested in all that Rhodes USA and Neo General Construction had to offer to the area, and gratefully accepted a position as the Administration Manager for both companies. Her years of management have given her experience in budget oversight and financial analysis, and her growing interest in the construction and manufacturing industry has shown her how much of a difference the companies can make in West Texas.
Alex is proud to manage the day-to-day accounting operations at Rhodes USA and Neo General Construction and is dedicated to making sure all projects stay on budget. Her favorite part of working for both companies is seeing ideas come to life on the manufacturing and construction side of projects and enjoys learning about all of the ways the companies are giving back to the community through job opportunities and charity-based work.
"A SMARTER, FASTER AND BETTER WAY TO BUILD."
RHODES USA PROVIDES CONCEPT TO COMPLETION BUILDING SERVICES THROUGHOUT AMERICA.
Our business has evolved from design, compliance and project management services, and has now progressed to a company supplying a diverse range of quality building products throughout the United States. Our current design, manufacturing, supply and construction capabilities combined with our vertical integration means that we now offer full turn-key services across the US and beyond. Our civil, structural, and architectural engineering is all completed and certified in house, allowing us to understand every stage of the building process.
Rhodes USA is proud to be a part of the Rhodes Group with operations across the globe. We provide modern methods of construction while maintaining safety, environmental responsibility, and equality throughout our branches.
Office/Plant Location
Reese Technology Center Hanger 92
212 Davis Drive
Lubbock Texas 79416